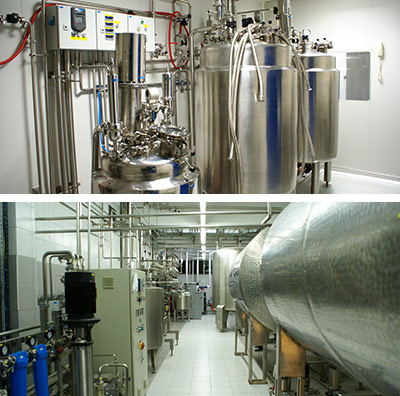 Sterile Contract Manufacturing
Our sterile contract-manufacturing site offers the following sterile injectable capabilities.


Terminal Sterilization capabilities
Ampoule formats: 1 mL, 2 mL, 3 mL, 4 mL, 5 mL, 6 mL, 10 mL and 15 mL
Batch sizes range from 30 L to 1000 L
Our facility is equipped with:
Two ampoule washing, depyrogenation and filling machines from Bosch, Germany with filling capacity of 24,000 unit/hour for 2 mL ampoule
Two autoclaves for terminal sterilization from Fedegari, Italy and De Lama, Italy with chamber volume of 2 m³ and 4 m³ respectively
Three Automatic Optical inspection machines:
Two from Brevetti, Italy with capacity of 12,000 unit/hour and 18,000 unit/hour for 2 mL ampoule
One from GF, Italy with capacity of 18,000 unit/hour for 2 mL ampoule


Fully automated Cleaning-In-Place (CIP) and Sterilization-In-Place (SIP) systems
Production of Water For Injection (WFI) and Highly Purified Water (HPF) according to EP specifications.
Ventilation system consist of class A, B, C and D. All filling procedures are carried out in A and B classes. All other operations are take place in class C and D..
All laboratories are operated under Good Laboratory Practices (GLP) by highly qualified personnel.
Empty glass ampoules are produced within our facility through seven machines from Moderne Mechanique, France.
Production capacity per machine: 25 million/unit annually for 2 mL ampoule.
Production range: 1-25 mL